Volkswagen Atlas vs Honda Pilot

It's time to get out there and see life in a new way. A midsize SUV can open up a whole new world to you and your family, and if you're searching for one, you've come to a convenient place. Speedcraft Volkswagen has compiled this 2019 Volkswagen Atlas vs. Honda Pilot comparison for area drivers looking for that next SUV.
Whether you're hanging out in Warwick, traveling into Providence, or spending the day in Coventry, you deserve a midsize SUV that's capable, reliable, and road-ready.
VW Atlas vs Honda Pilot: Performance
If you like choice, then the Volkswagen Atlas has a leg up on the Honda Pilot. After all, it offers two engines, and the Pilot only has one—a V6. With the Volkswagen Atlas, you'll be able to choose from a turbocharged 2.0L 4-cylinder that delivers 325 horsepower, and a 3.6L V6 engine that makes 276 horsepower.
The Honda Pilot V6 offers similar horsepower to the VW Atlas V6, but it comes up short in the torque department. With the Volkswagen Atlas, you'll have 266 lb-ft of torque to work with, compared to the 262 lb-ft of torque the Pilot offers. When going around corners or towing, that extra torque in the VW Atlas can come in handy.
Once everyone is packed in, it's off to your destination. Is three a crowd? Not in either of these vehicles, with three rows of seating providing many ways to enjoy the road ahead.
VW Atlas vs Pilot: Interior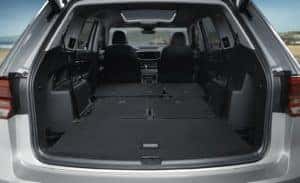 Cavernous—that would be one way to describe the 2019 Volkswagen Atlas, with a spacious interior the entire family will be able to enjoy. If you've heard the feedback over the years, or made the feedback yourself, that the third row always seemed cramped in a car, the VW Atlas is seeking to change that.
With 33.7 inches of third-row legroom, kids and adults can be very comfortable. Compare that to the 31.9 inches of third-row legroom in the Honda Pilot, and it's clear which of these vehicles is more comfortable for those riding along in the back.
What about cargo space? We all crave it, and never seem to have enough of it. When the second and third rows are folded down, you'll enjoy up to 96.8 cubic feet of cargo space in the Volkswagen Atlas. The cramped Honda Pilot only offers about 84 cubic feet with the seats folded.
Smart Technology Goes to Work for You

Yes, both the Volkswagen Atlas and Honda Pilot are equipped with standard touchscreens. It's what those touchscreens can do that separates these SUVs.
Let's cut right to the chase: If you want to use smartphone features while driving, the VW Atlas comes with standard Apple CarPlay® and Android Auto™ functionality. Connect a smartphone using the USB port and you'll see many of your phone's features populate right on the touchscreen. If you're driving the Honda Pilot, this is a feature you won't have as a standard one.
Blind Spot Monitor is another helpful forward-thinking tech feature found in the VW Atlas. With this functionality, you'll be able to see if there's a car in your blind spot before making that lane change. The Honda Pilot does have blind spot technology, but it's not standard as it is in the VW Atlas.
Volkswagen Atlas vs Honda Pilot: The Midsize SUV Verdict
If you're ready to take the wheel of your next car, a midsize SUV can make a lot of sense, particularly if you have a growing family and need more space.
Comparing the 2019 Volkswagen Atlas vs. Honda Pilot, it's clear to see that the latest edition of the VW Atlas conquers the Pilot in many ways. Speedcraft Volkswagen is a fine place to go to see the VW Atlas in action near Warwick, Providence, and Coventry. Schedule a test drive with our sales experts today!